 Blogs
The Role of Customer Service in Retaining Customers Best Practices and Case Studies
The Role of Customer Service in Retaining Customers Best Practices and Case Studies As consumers, we are always on the lookout for stories of great customer service, as these stories are a great reminder of businesses who still care about their consumers.
Every business says that their #1 priority is their consumers, but very few are willing to pledge the extra mile for their consumers.
Therefore Franklin Benjamin rightly puts it, "Well done is better than well said."
In this read, we will help you "walk the walk" of great customer service for retention.
The Benefits of Excellent Customer Services For Retention
Companies that excel in customer service for retention go beyond mere problem-solving. Providing exceptional customer service is both a cost-saving and revenue-generating strategy for businesses.
In fact, enhancing the customer experience can boost sales revenue by 2-7% and profitability by 1-2%.
Here, we dig into additional economic benefits associated with exemplary customer care services.
1. Choose customer service for retention over customer acquisition.
The research has found that companies ignoring to dedicate a small portion of their budget towards customer service tend to experience higher customer acquisition costs (CAC).
By contrast, investing in customer service can effectively shorten customer churn. Lower churn rates reduce the need for excessive customer acquisition expenses and subsequently contribute to a reduction in overall CAC.
Notably, a substantial portion of sales derives from loyal customers, with a mere 20% of your current customer base responsible for 80% of your company's profits.
Pro Tip: Creating a superior customer experience significantly enhances customer retention. Businesses can foster long-lasting satisfaction and brand loyalty by focusing on an exceptional onboarding process and tailored offerings.
According to McKinsey, companies employing experience-driven growth strategies witness a noteworthy 5-10% increase in wallet share and a remarkable 20-30% surge in satisfaction and engagement.
2. Customers are willing to pay a premium for exceptional customer service companies.
The value attributed to outstanding service is invaluable, with many customers ready to invest more to avail themselves of such excellence.
The treatment received from a customer service team holds excellent significance for customers, and companies can directly benefit from positive customer service interactions.
Over 80% of customers have reported that a valuable service experience makes them more inclined to repurchase from a company, even when presented with alternative options.
In an era where the prioritization of customer service has become crucial, any company that fails to do so is at risk of failure.
Moreover, a single positive encounter can inspire brand loyalty, while a negative interaction may drive customers straight into the arms of a competitor.
Pro Tip: To provide the kind of customer service that fosters long-term loyalty, it is vital to address customers' needs and concerns consistently.
This involves the swift solution of issues, empathetic communication, offering customer retention tools, and actively utilizing customer feedback to refine business practices, and always keeping the customer at the forefront of decision-making.
3. The impact of customer service on customer lifetime value
Customer service plays a pivotal role in driving customer lifetime value (CLV).
CLV is a critical business metric representing the total revenue expected from a single customer account. Enhancing CLV involves encouraging customers to shop more frequently or spend more money on your products.
However, many businesses have yet to fully harness the potential of this vital metric, with only 42% capable of measuring customer lifetime value accurately. Investing in your customer service team is an excellent strategy to optimize and boost customer lifetime value.
Customers who have a remarkable experience with your customer service and support teams become more inclined to make repeat purchases from your company.
Furthermore, they may share their positive experience with others, promoting trust and fellowship within your customer base.
Effective customer service also instills newfound trust in new customers, enabling you to upsell and cross-sell additional products with minimal friction successfully.
New users will trust that your sales team genuinely recommends products that align with their specific needs, thus creating a seamless purchasing experience for both customers and employees.
Pro Tip: To maximize CLV, focus on cultivating enduring and mutually beneficial customer relationships. You can enhance the likelihood of initial and repeat purchases by offering exceptional products/services and providing outstanding support whenever customers require assistance.
Each positive interaction increases the probability of customer retention, prolonging your relationship's duration and elevating CLV.
4. Customer service can lead to more revenue.
A great customer experience holds the potential to generate additional revenue, impacting the overall bottom line.
Business leaders understand that budgeting and decision-making are fundamentally tied to financial outcomes.
However, it is crucial to acknowledge that customer service itself can contribute to revenue growth and overall business success.
A comprehensive report reveals that leaders in customer experience across all industries have achieved twice the revenue growth compared to their counterparts, a trend consistently observed since 2016.
Moreover, American companies reportedly suffer annual losses of approximately $136.8 billion due to preventable customer attrition. Therefore, it is evident that both positive and negative customer experiences directly influence a company's revenue and growth trajectory.
Customer Service for Retention Can Help you Rebuild Brand Image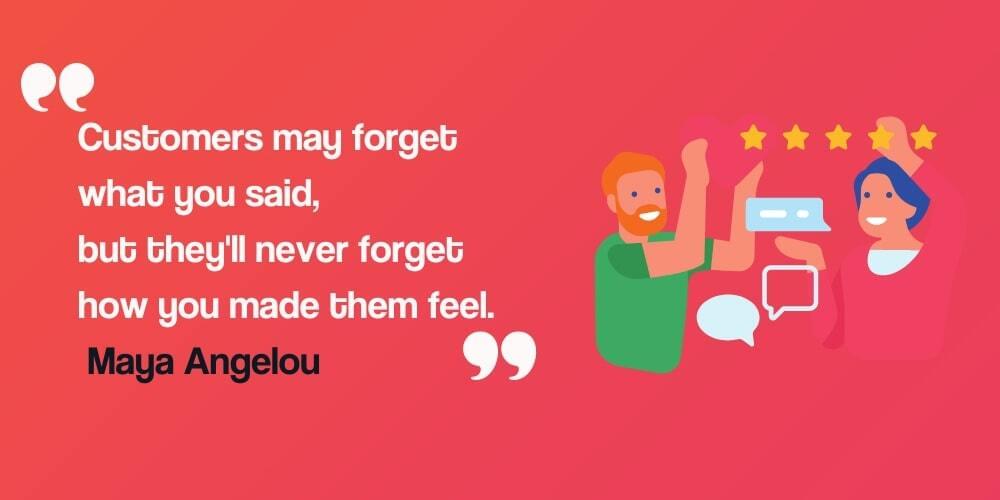 1. Customer service affects your brand image and loyalty potential.
A great customer experience profoundly influences your brand's impression and harbors the potential for cultivating customer loyalty.
In multiple ways, your customer service team serves as the personification of your brand.
While your social media presence, advertisements, content, and other external marketing efforts leave an impression, it is your customer service team that directly engages with your customers. They bear the responsibility of representing your brand during interactions with potential buyers. The quality of customer service can either make or break a company's ability to convert potential customers into devoted patrons.
Notably, a positive customer service experience plays a pivotal role in shaping customer behavior. 89% of consumers report an increased tendency to revisit and make subsequent purchases after a positive customer service experience.
When making purchasing decisions, 66% of customers consider the brand's customer service plays as a critical factor for a brand's positive reputation.
Conversely, 61% of consumers admit to severing ties with the brand when confronted with subpar customer service. Undoubtedly, customer service occupies a central position in establishing your brand image and fostering unwavering loyalty.
Survey data reveals that nearly three out of five consumers deem excellent customer service as essential for promoting a sense of commitment toward a brand.
Consequently, investing in a customer service team that ideally represents your mission and values is not only a wise business decision but also a strategic branding maneuver. By doing so, you show your commitment to nurturing lasting customer relationships and fortifying your brand's reputation in the market.
2. Excellent customer service can help you re-patch with angry customers.
When customers undergo a negative experience with customer service, they are more inclined to express their dissatisfaction promptly and sever ties with the company compared to previous years.
Moreover, statistical data concerning the realm of B2B reveals that 51% of B2B enterprises commence avoiding vendors following an unsatisfactory encounter with customer service.
Nonetheless, if your company gives excellent customer service, 78% of consumers would be inclined to engage in further business dealings even after an unfortunate incident.
Additionally, one out of every five consumers will forgive a negative encounter with a company whose overall customer service they regard as "very poor."
At the same time, nearly 80% will likely forgive such an experience if they appraise the service team as "very good."
3. A positive customer service can help you build business reputation
The third point to consider is that a favorable reputation in customer service increases the ratio of engagement with other business as well.
When making purchasing decisions, consumers consider the quality of customer service. In fact, a substantial 78% of consumers employ customer service as a decisive factor in determining whether or not to engage in business with a particular company.
This implies that the reputation your company upholds with regard to customer service significantly impacts a vast majority of potential customers. Moreover, it is essential to acknowledge that customer service contains more than just frontline representatives.
The manner in which potential customers service during the sales process also plays a pivotal role in influencing their purchasing decisions. Therefore, the objective of any customer-facing role should be able to deliver positive customer service experiences.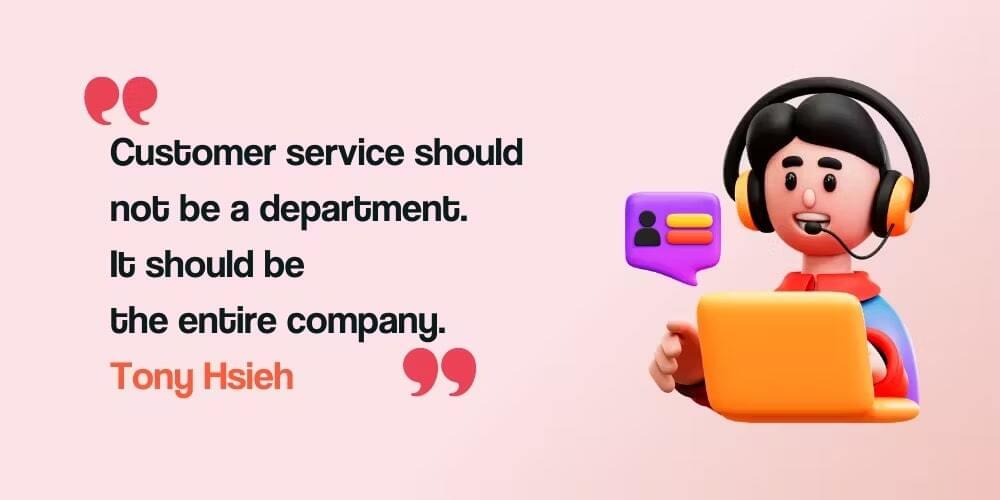 What Businesses Need to Do to Improve Customer Service?
In the realm of business, the significance of nurturing a proficient customer service team cannot be overstated.
Companies must equip their employees adequately, empowering them to provide the level of customer service that meets today's standards.
Allow me to present a plethora of compelling statistics that will shed light on the importance of enhancing your customer service team:
1. Meeting the high customer expectations
The contemporary consumer doesn't merely anticipate the presence of a customer service team; they demand excellence.
Recent data collected post the COVID-19 pandemic reveals that 58% of respondents now possess higher customer service expectations than the previous year.
66% of customers indicated they would switch brands if they felt they were being treated as impersonal entities rather than individuals.
Additionally, 71% of customers desire a consistent experience across all channels, but only 29% feel they receive one.
This abundance of options empowers customers to seek alternatives when dissatisfied, making it imperative for brands to rise to the occasion to attract and retain loyal clientele.
2. Embracing omnichannel solutions
Before the pandemic, businesses gradually explored digital avenues to engage and support their customers. However, the outbreak expedited this process, making it essential for companies to communicate through diverse channels such as social media, live chat, and video calls.
Shockingly, 2022 State of Customer Service report reveals that a mere 50% of companies have equipped their service teams with basic equipment such as a churn retention tools, help desk, knowledge base, and shared email capabilities.
Consequently, many businesses find themselves lagging behind, failing to provide their customer service teams with the necessary tools to offer seamless support across every channel.
All high-growth companies surveyed and that has implemented multiple channels and tools, empowering their customer service teams and leading to significant improvements in customer service.
These channels not only enhance customer experience but also gain an expected standard in the customer service industry.
To create a harmonious customer service journey, businesses must invest in omnichannel solutions that integrate these various mediums, facilitating immediate and reliable responses irrespective of the chosen channel.
3. The superior customer services offer the competitive edge
As an organization, striving for excellence and distinguishing yourself from competitors is imperative. Merely being second-best is not a worthy aspiration.
Your aim should be to outshine every other company in your field, making it evident to your customers. Achieving this level of distinction is the key to fostering customer loyalty and ongoing engagement with your brand.
Exceptional customer service for retention can serve as a formidable differentiator for your company. Research indicates that 67% of customer churn is preventable if the initial interaction successfully resolves the customer's issue. By delivering unparalleled customer service, not only can you retain your existing customers, but you also have the opportunity to acquire customers from your competitors.
The power of a well-trained, positive customer service team cannot be underestimated. Their direct communication with customers has the potential to revolutionize your company and expand your customer base.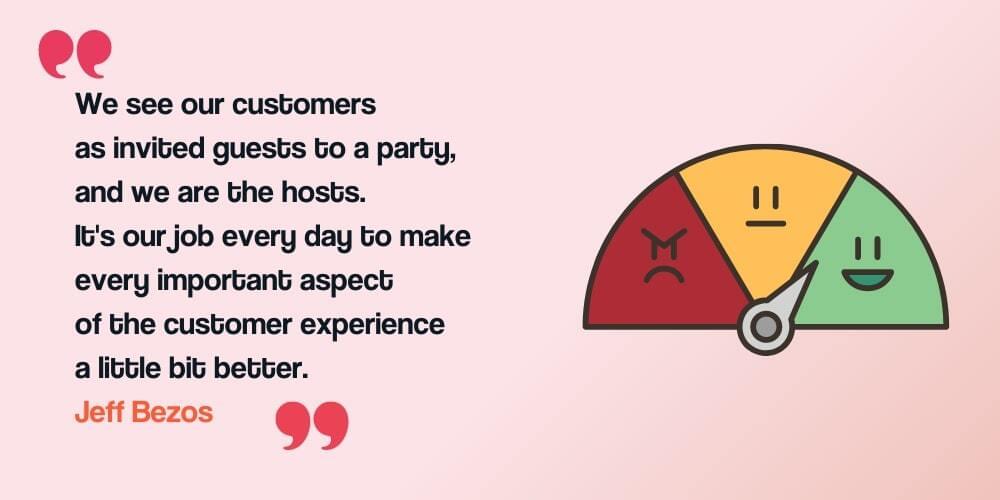 Case studies of companies with exceptional customer service
Buffer
Providing exceptional customer support is their utmost priority, holding the top spot on their daily agenda. It is the primary objective they aim to achieve consistently, which is why they affectionately refer to their support team as the "Happiness Team."
The reason behind Buffer's strong focus on support lies in their unique approach. Instead of aggressively promoting Buffer's excellence to the masses, which yields limited results, they opt for a different strategy. Buffer welcomes individuals to approach them with any concerns or queries they may have.
Buffer's aim is to assist these individuals promptly and effectively, leaving them feeling content and impressed, eventually leading them to spread the word about their positive experiences to friends and acquaintances.
Buffer illustrates how extraordinary service can transform from being considered "something we should be doing" to becoming a well-defined and targeted method for generating incredibly positive word-of-mouth referrals.
JetBlue
In 1998, the beloved airline JetBlue embarked on a mission to delight customers. Their Customer Bill of Rights established new industry benchmarks, while their remote customer service team set a precedent for remote work by providing assistance from the comfort of their own homes.
Frankie Littleford, JetBlue's Vice President of Customer Support Experience, Operations, and Recovery, shared the team's beginnings in an interview with Forbes. She explained the importance of cultivating an exceptional internal culture to ensure exceptional customer service externally, among the traveling public. Building a culture based on respect, trust, and communication was crucial to their success in achieving this mission.
This positive culture gave rise to delightful traditions centered around the customer. JetBlue, for instance, has a mysterious figure known as the "People Officer" who surprises customers with unexpected rewards and gifts during flights and at airports.
On one occasion, the People Officer stood up mid-flight and organized an impromptu trivia game, announcing that winners would receive flight vouchers. In the end, a dozen lucky passengers walked away with tickets.
JetBlue believed that by providing a superior flight experience, they could disrupt the existing norms, and they continue to raise the bar in the industry. Even during the challenging times of the coronavirus crisis, they went above and beyond by offering free flights to medical personnel and facilitating the transport of essential supplies, despite facing their own business uncertainties.
Springboard
Now, let's move on to the case study of Springboard, an online platform that empowers students worldwide to pursue their dream careers by providing personalized mentors and valuable educational resources.
Springboard's mission is to make quality education accessible to everyone, and they have successfully partnered with 250 mentors to guide over 5,000 students across six continents. Central to their achievements is their ability to foster an open environment where students feel comfortable seeking feedback and accessing course information independently.
Springboard provides 24/7 live chat support to address immediate queries and concerns. Students can access real-time assistance from knowledgeable support agents who can help troubleshoot technical issues, provide clarifications, or offer guidance on course materials.
To support lifelong learning, Springboard offers access to an extensive library of learning resources even after the course completion. Students can continue to expand their knowledge and stay updated on industry trends through articles, e-books, webinars,
Wrapping up
Equip your teams with the best tools such as customer retention tools to retain customer and know the smarter ways to offer the best customer care and services. Churnfree is the helping businesses retain their customers by offering in-depth analysis of what made your customer leave and what you can do to bring them back. Churnfree is helping them revisit their customer care strategies and helping them achieve the best desired business goals.