Win Customers Back by Creating Customer Retention Flows
Win Customers Back
by Creating
Customer Retention
Flows
Form a better connection in every cancellation attempt to increase customer retention. Build interactive and engaging cancellation flows with Churnfree.
Start my 14-days Free Trial



No credit card required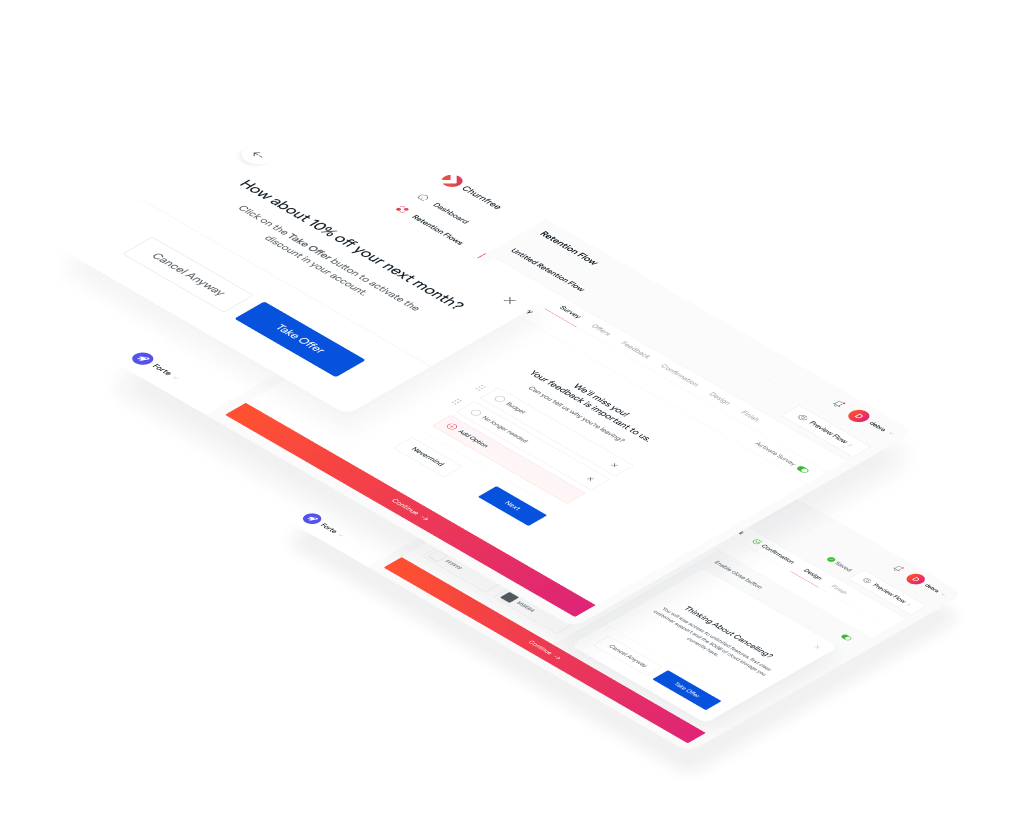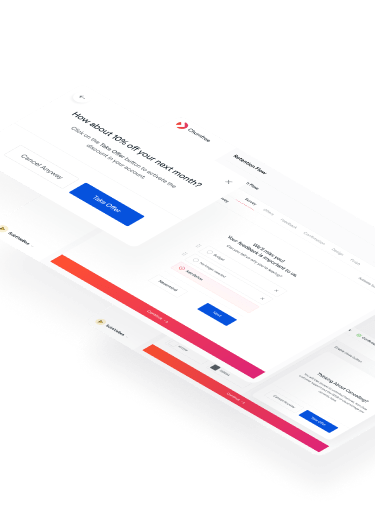 Why Personalized Customer Retention Flow is a Must for your Business
Our product features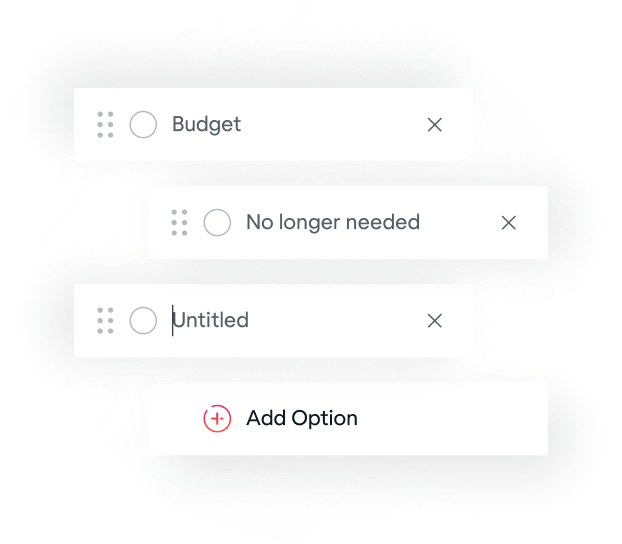 Improving Product Based on Real-Time Data
Improving Product
Based on Real-Time
Data
Learn what's good or bad about your product by conducting surveys and gathering feedback within your flow.
Sign Up-It's Free!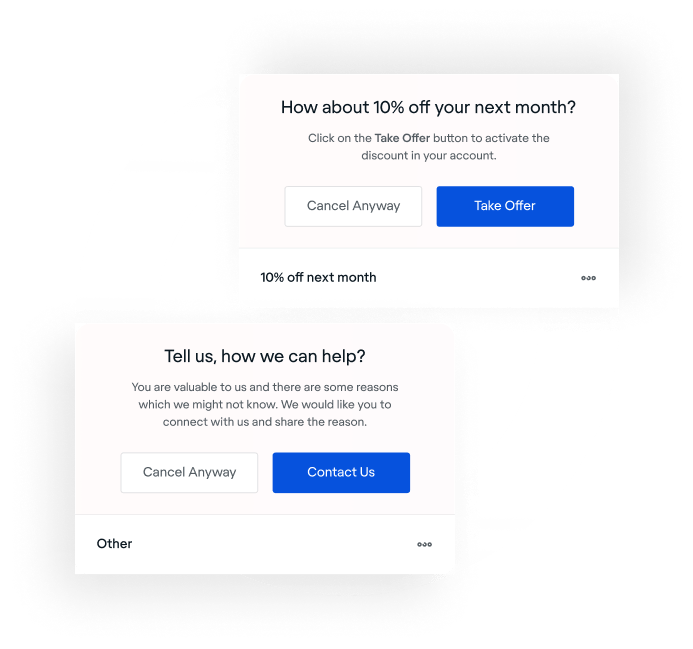 Make Customers Happy and Stay Longer
Create an opportunity to retain your customers by presenting targeted offers and subscription alternatives before they proceed with the cancellation.
Sign Up-It's Free!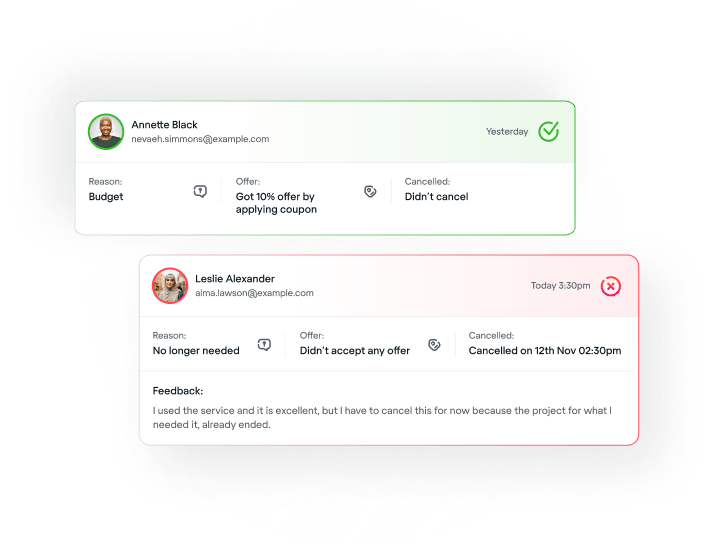 Increase Customer Retention to Boost Revenue Growth
By creating pleasing cancellation flows, you can save hundreds of customers and make them happy while increasing your revenue in the process.
Sign Up-It's Free!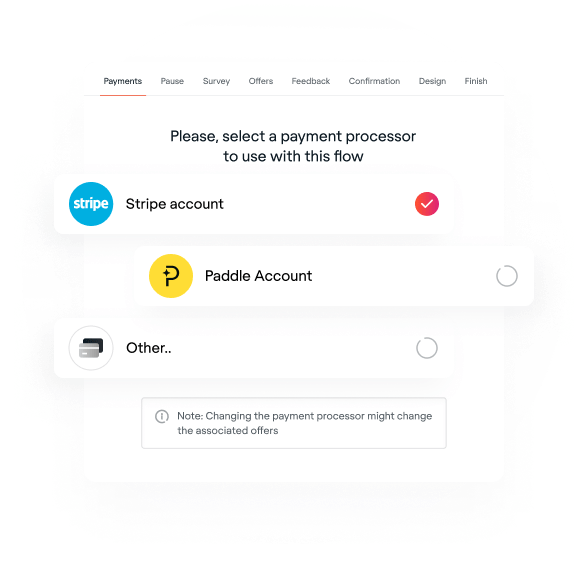 Connect your Payment Processors
Make your customer's cancellation experience as fluid as possible. Add the preferred Payment processors for your product.
Sign Up-It's Free!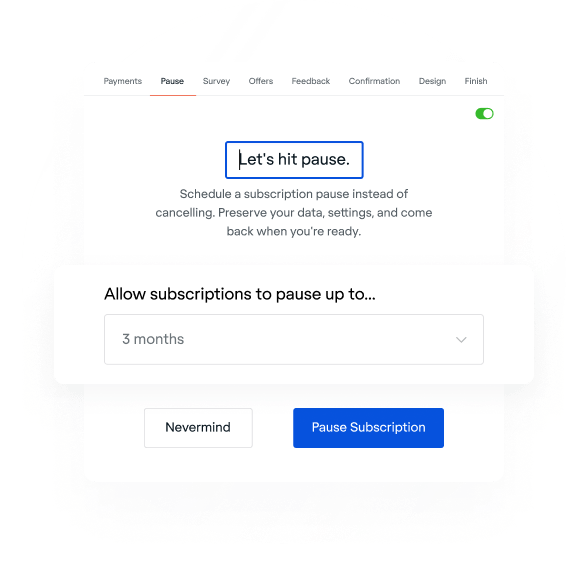 Pause Subscription to Avoid Voluntary Churn
Let your customer pause their subscription instead of canceling to encourage retention and minimize the marketing costs to win them back in the future.
Sign Up-It's Free!

Build a Positive Customer Retention Experience in a Few Simple Steps!
How it works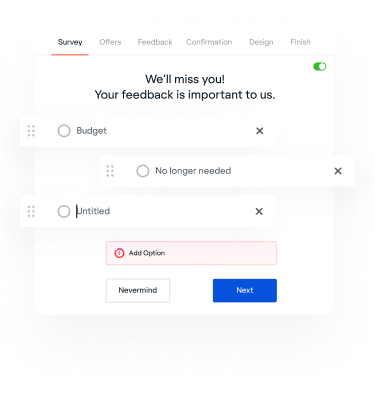 Step 1
Create your First Retention Flow
Customize questions with multiple choice answers to better understand why customers are canceling.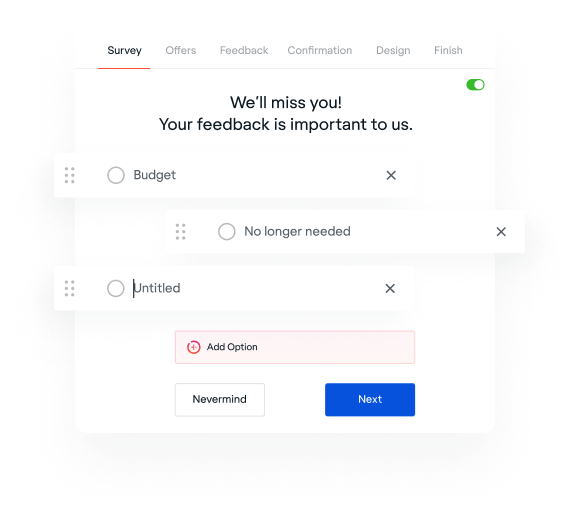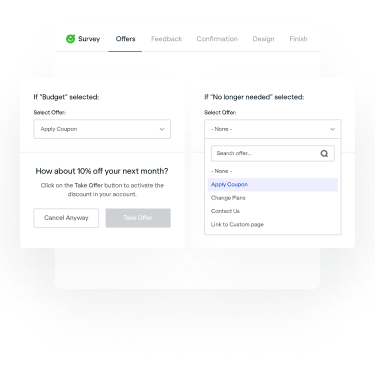 Step 2
Provide Offers
Provide targeted Offers based on customer profiles to encourage retention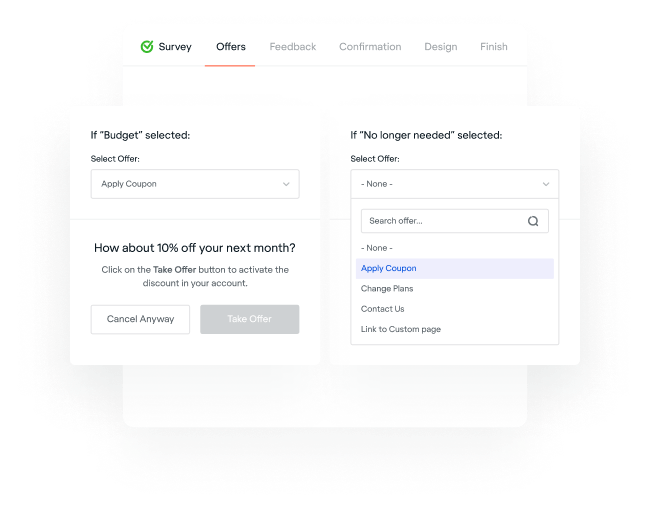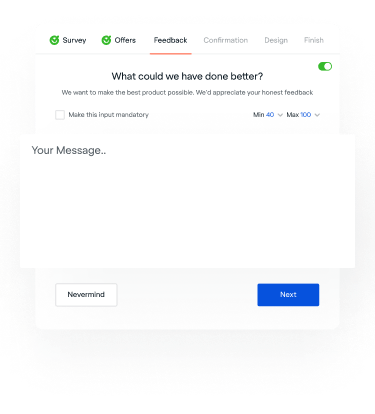 Step 3
Ask for Feedback
Gather insights, and ask your customers directly what you could have done better.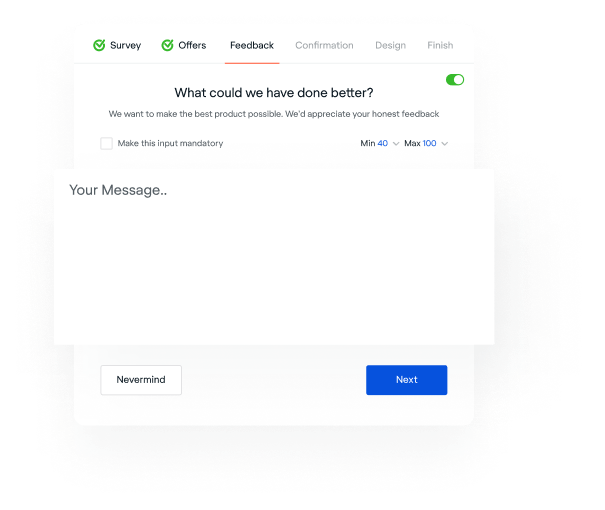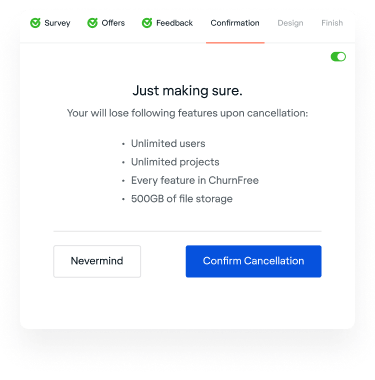 Step 4
Add Confirmation
Present enticing features to your customers before they decide to leave.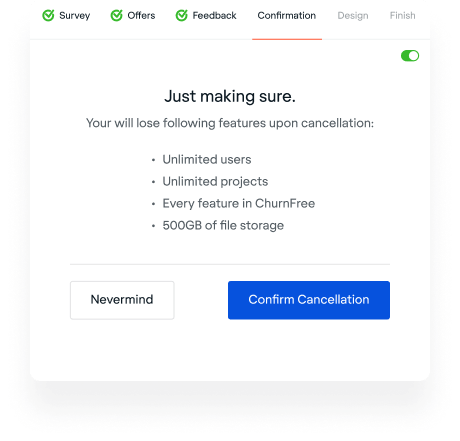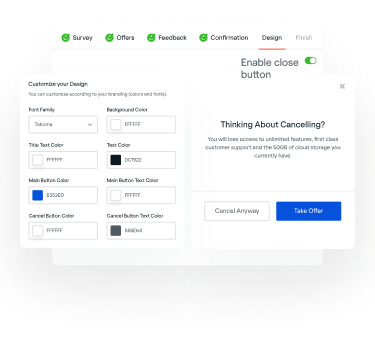 Step 5
Choose Your Design
Be creative. Customize each window and button according to your website theme or as you desire.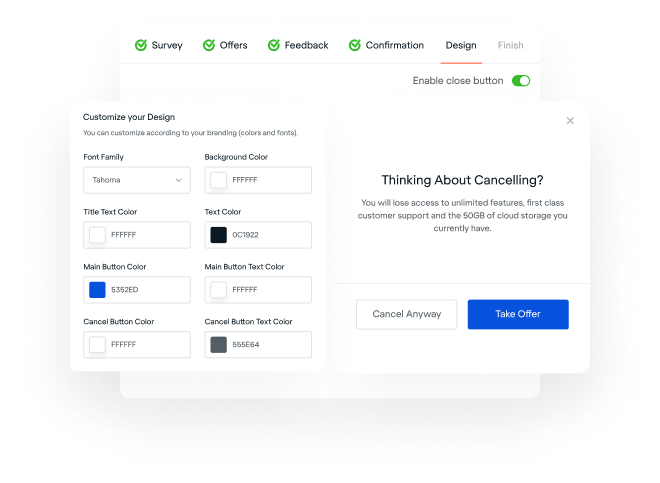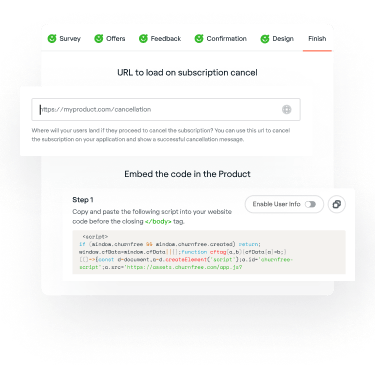 Step 6
Integrate the Code Snippet in Your Website
Integrate the Code
Snippet in Your Website
Churnfree will generate a script for your flow. Copy the full script and paste it in the last closing </body> tag of your website code.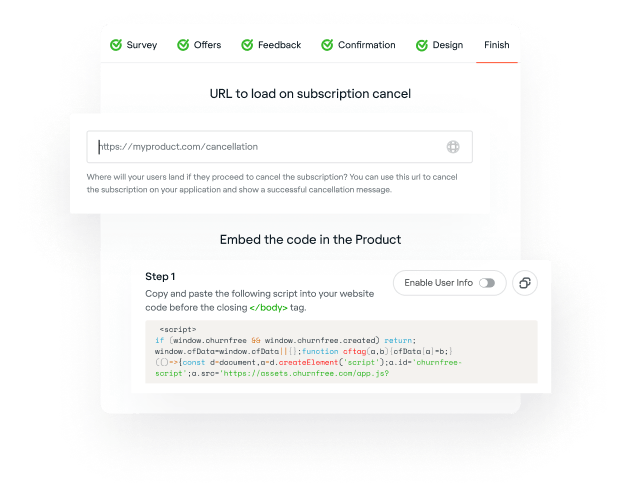 Sign Up and Start Reducing Churn Optimize your retention flows with these Churnfree features

Surveys
Let your users select from a customizable list of survey options.

Create Offers
Design offers supported by your payment processor like discounts or promotions.

User Feedback
Review your user feedback in a single place when they cancel and take action.

Confirmation Message
Remind benefits and features to your customers before they decide to leave.

Flow Design
Customizable cancel flows and intuitive flow editor to maximize customer retention.

Finish Alert
Quick and easy website integration. Deploy retention flows and receive alerts in minutes.
Create free account to start building your own retention flow.
We Let Our Clients Speak For Us. Here's Why They Love Churnfree.
Satisfied Customers

Benjamin Beyer
SaaS Co Founder
---
Churnfree is an essential tool for our company. We were able to gather customer feedback and insight efficiently. The subscription analytics feature helped us reduce churn significantly.

Laura Davis
Marketing Lead
---
I must say, the benefits of having a great cancellation flow are really worth the price. It has changed the way we operate from the ground up.

Grace Nadia
Project Manager
---
I love how simple and easy it is to build this tool. It saves a lot of time and effort!

---
The opportunity it presents makes a huge impact on our monthly growth. It helps us keep customers!
Discover more great Churnfree features to lower churn!
Links to other features
Frequently Asked Questions
Get your answers
What is a Retention Flow?
How does Churnfree reduce churn?
Does Churnfree provide subscription insights?
Can I get help setting up Churnfree?
Can't find the answer you're looking for?
Get human help