Let Your Customers Pause Their Subscription to Avoid Voluntary Churn
Let Your Customers
Pause Their
Subscription to Avoid
Voluntary Churn
Directly integrate your subscription billing platform to Churnfree and allow your customers to stick around longer by pausing their subscription instead of canceling.
Start my 14-days Free Trial



No credit card required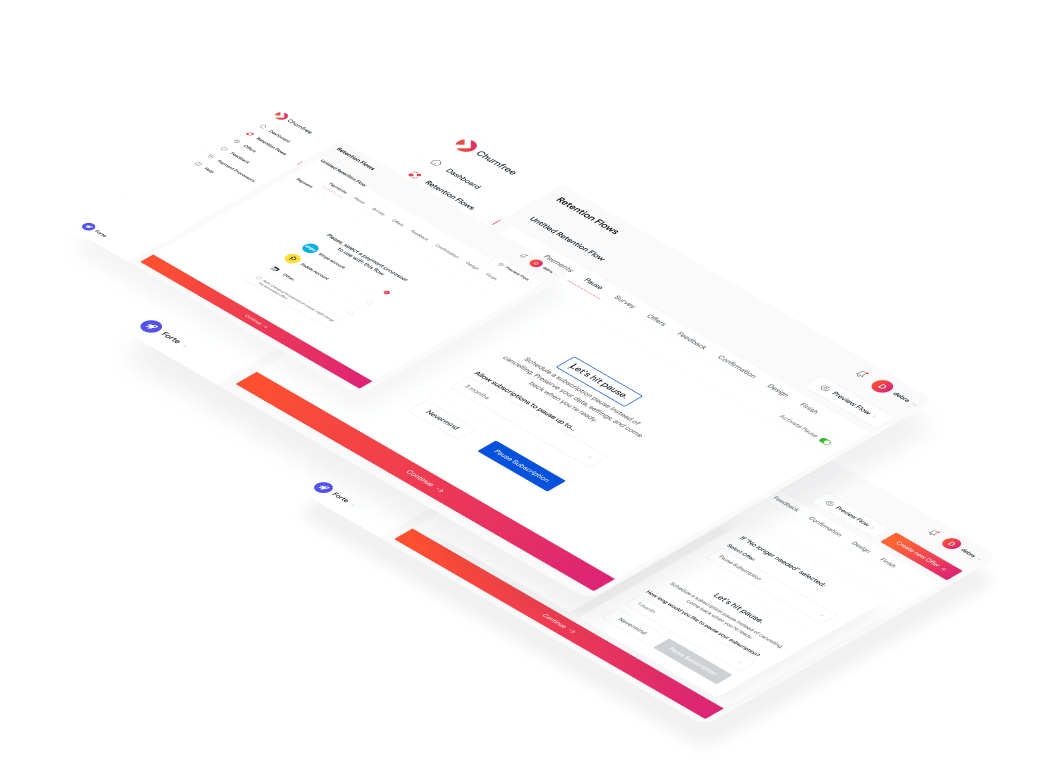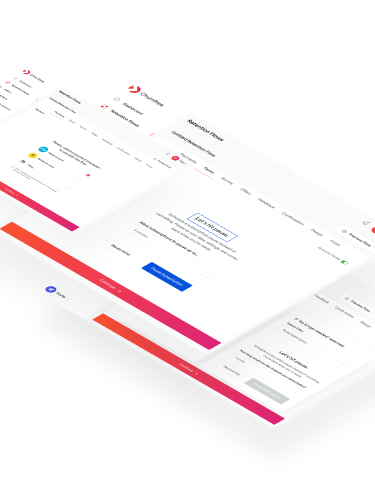 Pausing a Subscription is a Powerful Retention Tactic
Pause features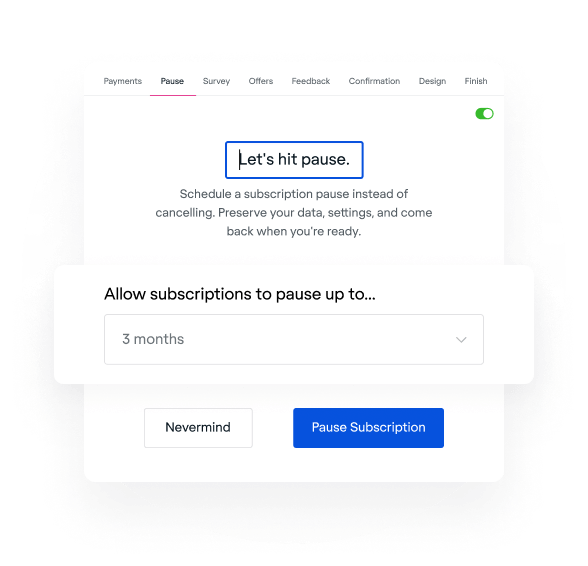 Reduce Churn by Up to 30%!
Enabling subscription pause is proven to be an effective way of preventing voluntary churn and the marketing costs to win customers back in the future.
Sign Up-It's Free!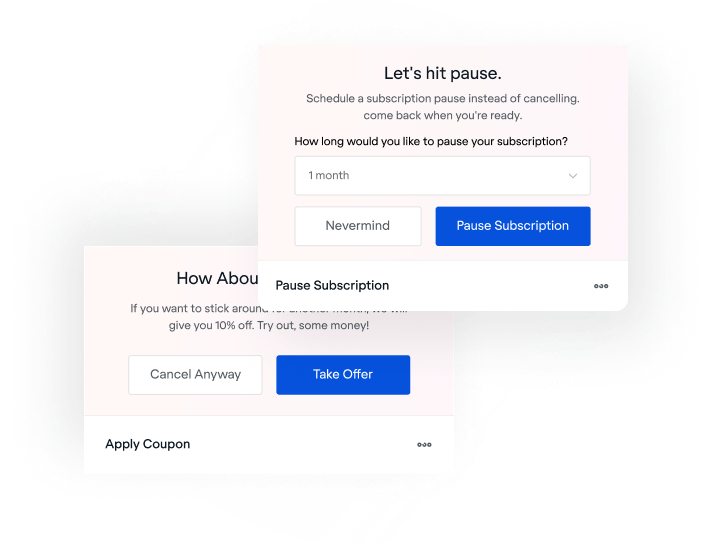 Subscription Pause Alongside Other Tempting Offers
Provide various subscription offers based on your payment processor for an excellent customer experience.
Sign Up-It's Free!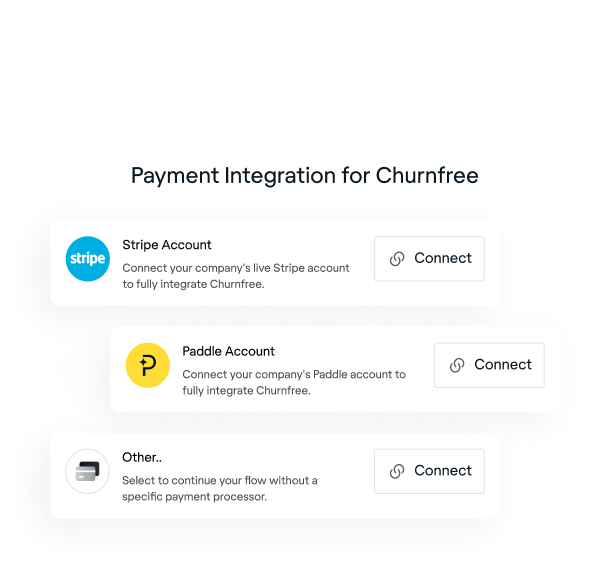 Easy Integration With Your Billing Platform
Churnfree works well with all the major payment processors in the industry.
Sign Up-It's Free!

Add the Pause Subscription Option in a Few Simple Steps!
How it works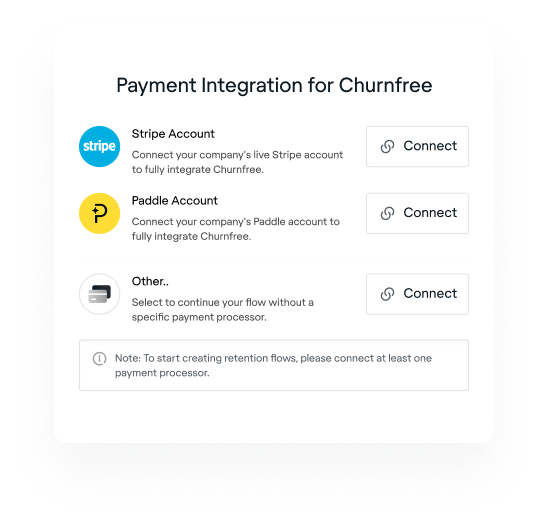 Step 1
Connect Your Payment Processors
Connect Your Payment
Processors
Integrate your billing platform to Churnfree by connecting payment processors. Note that you can connect more than one for your account.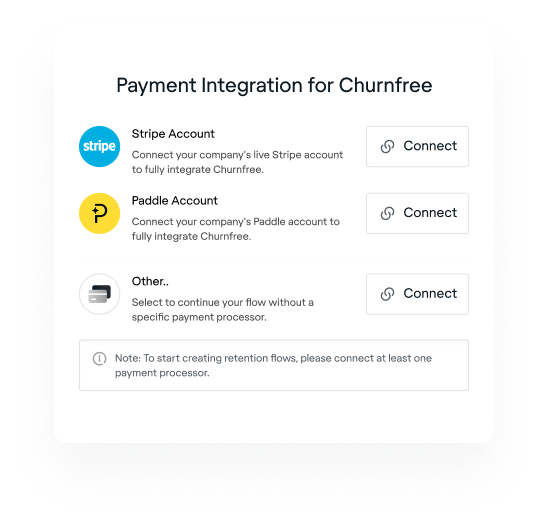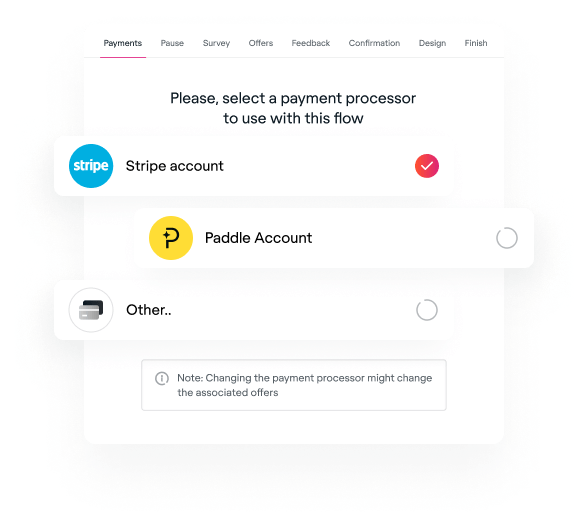 Step 2
Select Payment Processor for the Flow
Start adding different payment processors for each retention flow. Offers like subscription pause and discounts will depend on it.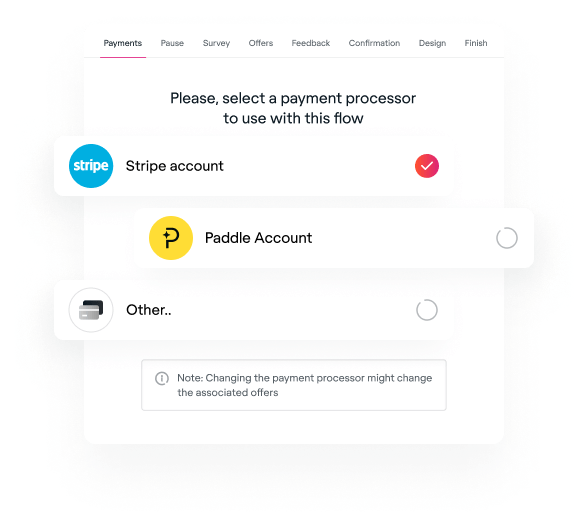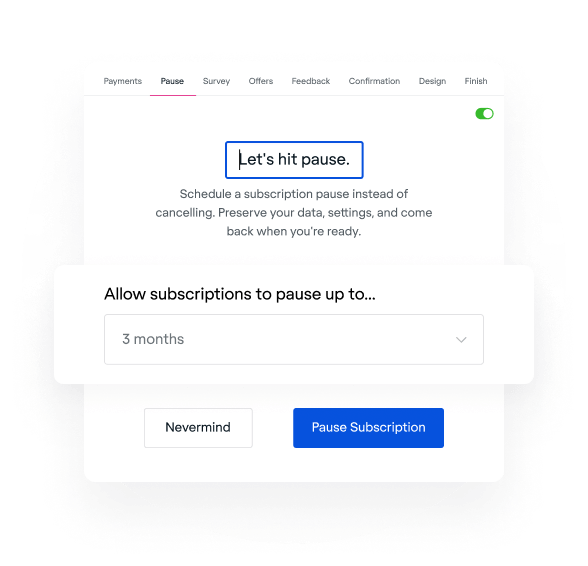 Step 3
Create and Edit the Pause Offer
Customize the Pause subscription window for your customers. Adding the URL to your payment processor's website is not required unless no payment processor is connected.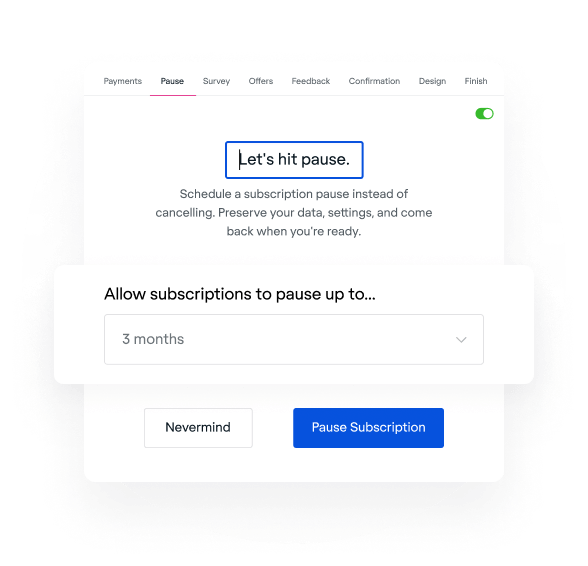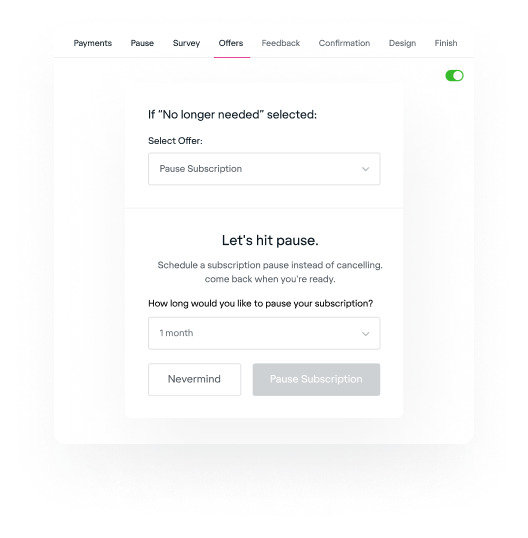 Step 4
Choose Pause Offer to Add in Retention Flow
Choose Pause Offer to
Add in Retention Flow
Select the offer that you want to present based on survey answers. Offers will be executed by Churnfree once accepted instead of being redirected to the payment processor's website.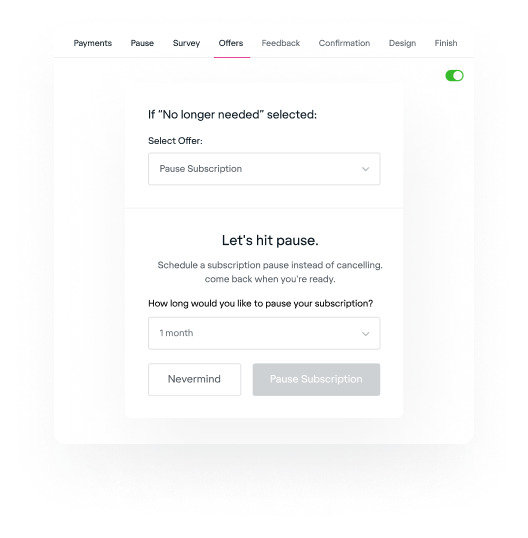 Sign Up and Start Reducing Churn Enable Pause Subscription Now to Reduce Voluntary Churn

Connect Payment Processors
Add any supported payment processors to your Churnfree account.

Add Pause Offer
Offer customers to pause their subscription based on survey answers as part of your retention tactic.

Offer Editor
Full customization of the Pause subscription window for your cancel flows.

Multiple Subscription-Based Offers
Other than Pause, you can add different offers such as discounts or coupons.
Other than Pause, you can also add offers such as discounts or coupons to further avoid voluntary churn.
Create free account to start building your own retention flow.
We Let Our Clients Speak For Us. Here's Why They Love Churnfree.
Satisfied Customers

Benjamin Beyer
SaaS Co Founder
---
Churnfree is an essential tool for our company. We were able to gather customer feedback and insight efficiently. The subscription analytics feature helped us reduce churn significantly.

Laura Davis
Marketing Lead
---
I must say, the benefits of having a great cancellation flow are really worth the price. It has changed the way we operate from the ground up.

Grace Nadia
Project Manager
---
I love how simple and easy it is to build this tool. It saves a lot of time and effort!

---
The opportunity it presents makes a huge impact on our monthly growth. It helps us keep customers!
Discover More Great Churnfree Features to Lower Churn!
Links to other features
Frequently Asked Questions
Get your answers
What is a Retention Flow?
How does Churnfree reduce churn?
Does Churnfree provide subscription insights?
Can I get help setting up Churnfree?
Can't find the answer you're looking for?
Get human help