Listen to Your Customers Via Feedback to Avoid Churn
Listen to Your
Customers Via
Feedback to Avoid
Churn
Churnfree allows you to effectively collect valuable customer feedback to avoid churn. So, you can use the information as a guiding resource for the growth of your company.
Start my 14-days Free Trial

Instant setup

No credit card required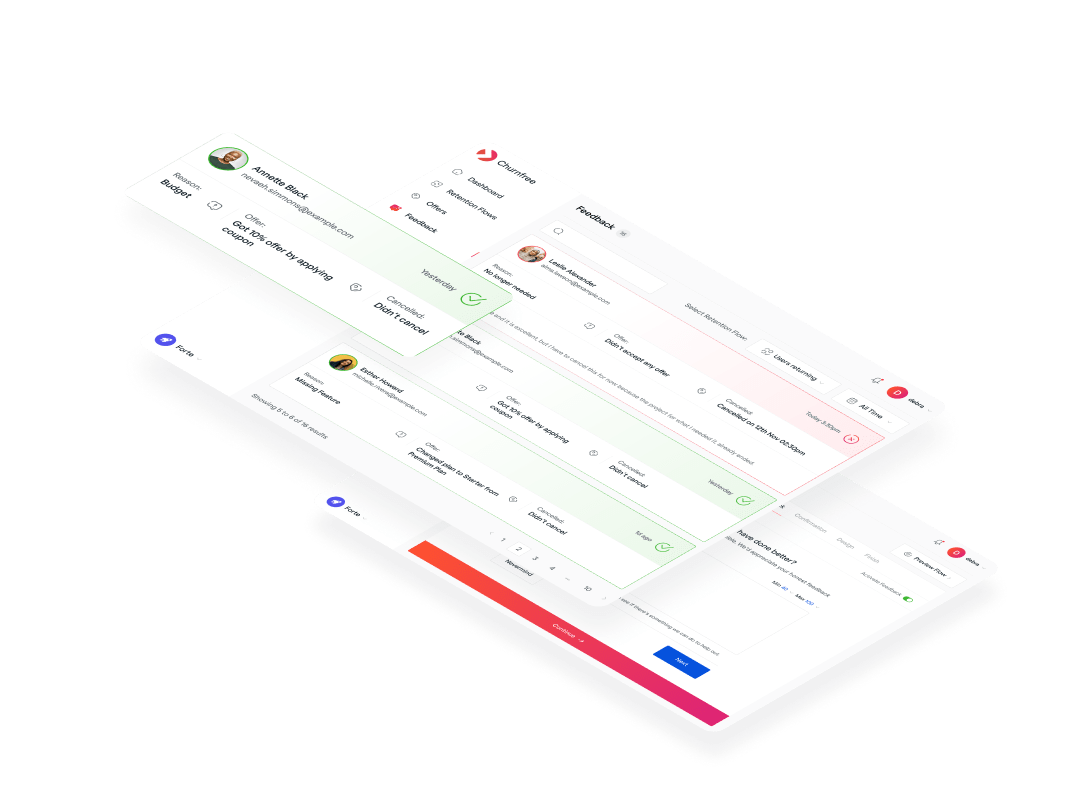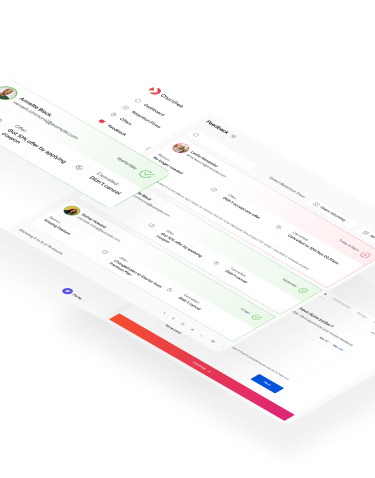 Make Your Customers Feel Valued to Promote Retention and Loyalty
Feedback features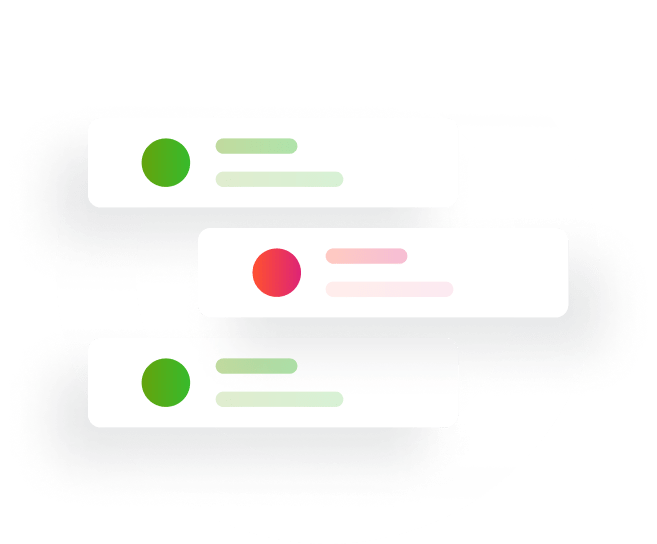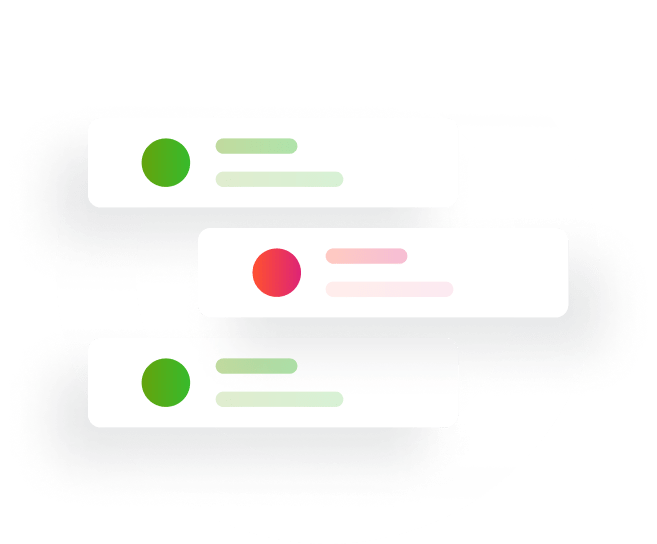 Feedback Allows You to Take Precautionary Measures
Collect customer insights to ensure you are serving the right offer at the right time while preventing churn.
Sign Up-It's Free!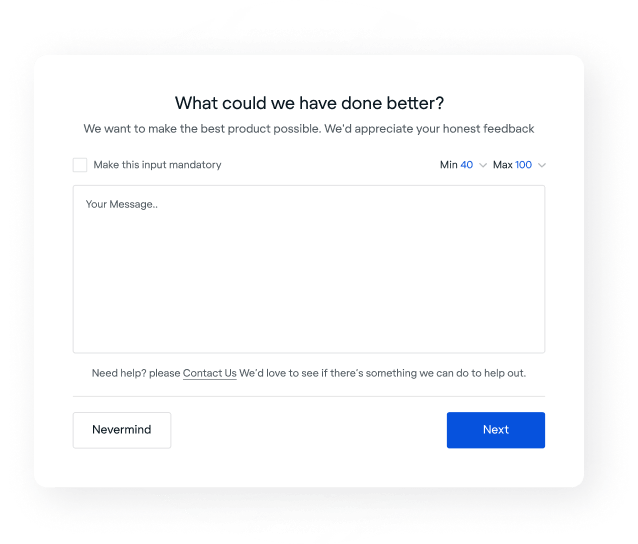 Customizable Form to Encourage Customer Engagement
Make your feedback form as engaging as possible to avoid churn and know how your customers feel about your product or service.
Sign Up-It's Free!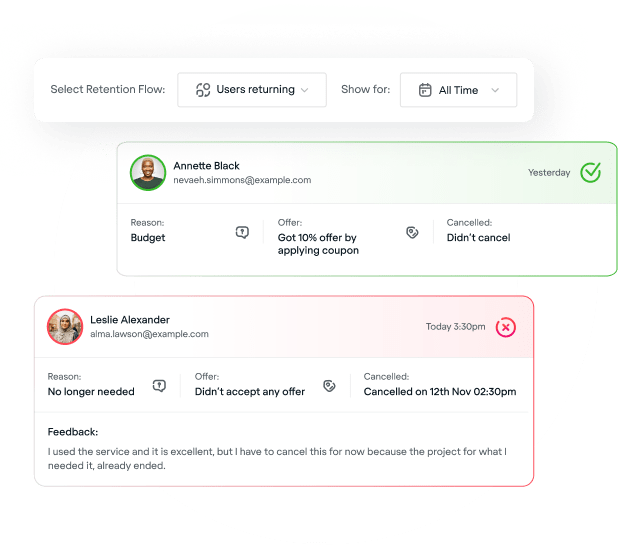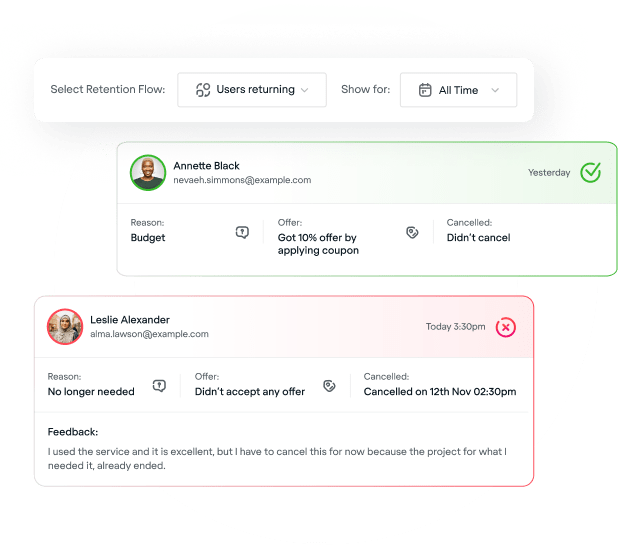 Select Specific Flow and Time Ranges
Search and evaluate users' feedback by specific retention flows and filter them by date to help you make informed business decisions.
Sign Up-It's Free!

Create a Feedback Form in a Few Simple Steps!
How it works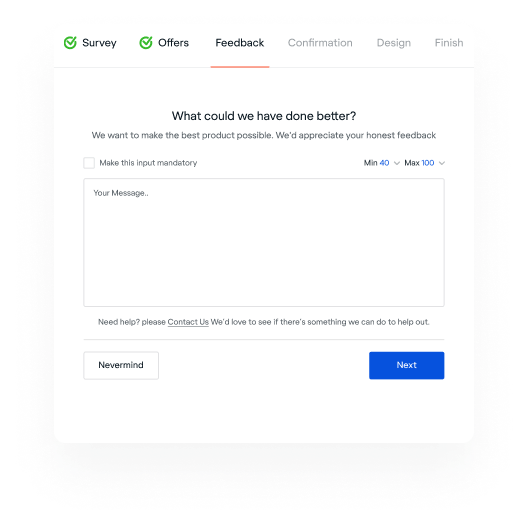 Step 1
Customize Feedback
Go to the Feedback section of the retention flow and start editing your form. Add a name for the form, edit the text, make the input mandatory or optional, and select min and max characters.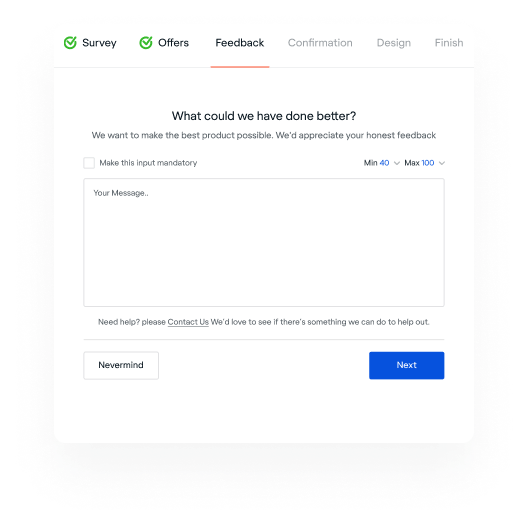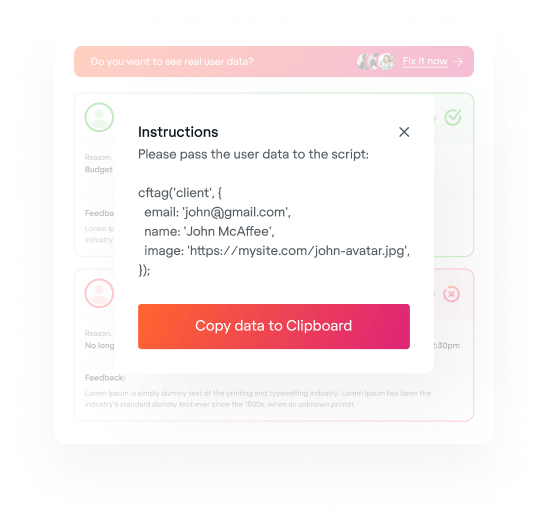 Step 2
Send User Information
Integrate Strip as your payment processor to automatically see your customers' details alongside their Feedback, or you may copy the script manually containing the users' data.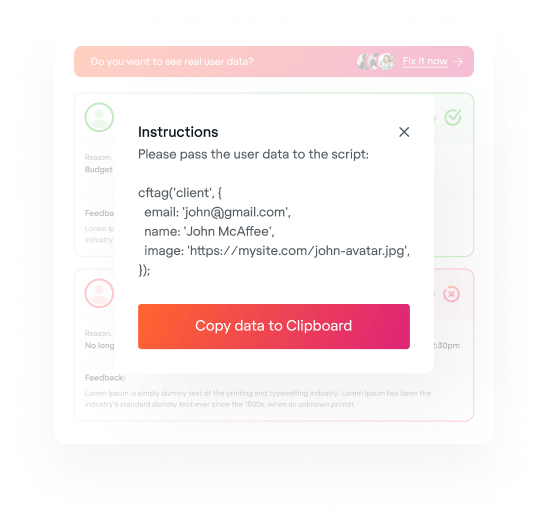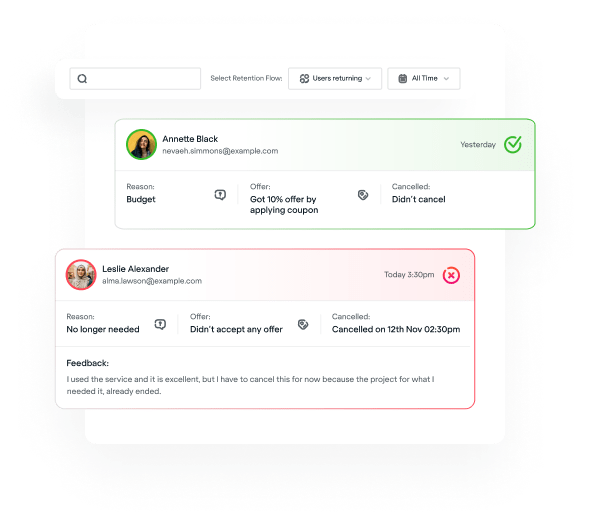 Step 3
Access Users' Feedback in One Place
Deploy your retention flow and start receiving customer feedback on the Churnfree Feedback page.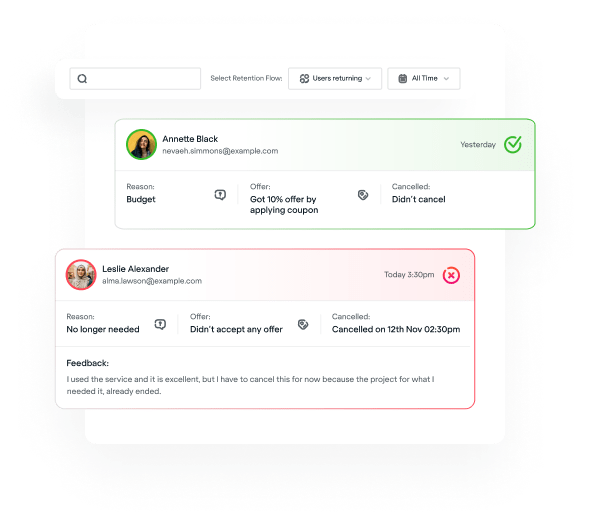 Sign Up and Start Reducing Churn Start Preventing Churn by Analyzing Customer Feedback Now!

Feedback Form Editor
User-friendly UI for a quick and easy form layout and design.

Customizable Buttons
Great freedom in choosing the button text font and color.

Multiple Feedback Forms
Create different Feedback forms for each retention flow.

Search Users With Time Ranges
Granular searches to access valuable user Feedback.
Create free account to start building your own retention flow.
We Let Our Clients Speak For Us. Here's Why They Love Churnfree.
Satisfied Customers

Benjamin Beyer
SaaS Co Founder
---
Churnfree is an essential tool for our company. We were able to gather customer feedback and insight efficiently. The subscription analytics feature helped us reduce churn significantly.

Laura Davis
Marketing Lead
---
I must say, the benefits of having a great cancellation flow are really worth the price. It has changed the way we operate from the ground up.

Grace Nadia
Project Manager
---
I love how simple and easy it is to build this tool. It saves a lot of time and effort!

---
The opportunity it presents makes a huge impact on our monthly growth. It helps us keep customers!
Discover More Great Churnfree Features to Lower Churn!
Links to other features
Frequently Asked Questions
Get your answers
What is a Retention Flow?
How does Churnfree reduce churn?
Does Churnfree provide subscription insights?
Can I get help setting up Churnfree?
Can't find the answer you're looking for?
Get human help