 Blogs
Exclusive Churnfree Black Friday & Cyber Monday Deal 2022
Exclusive Churnfree Black Friday & Cyber Monday Deal 2022 Black Friday is here. If you, like many people in business, are worried about making sure all the puzzle pieces fit together to offer all appealing deals to retain your valuable customers.
Black Friday is the best time to send discount emails announcing their dream products and services they were always looking forward to buying at much lower prices. We're keeping all caps open on all the best Black Friday sales, so if you want to get a jump on savings, go over the best deals worth shopping down below.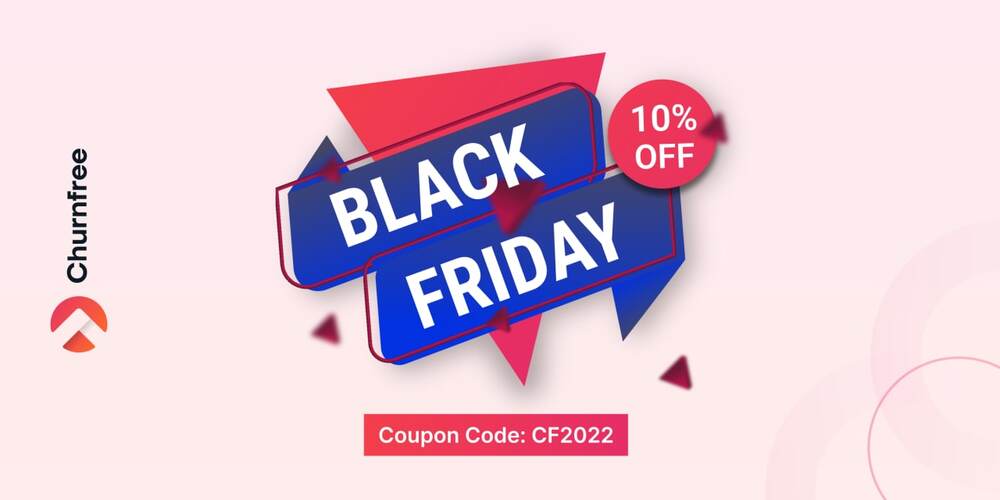 Use Churnfree best deals to get one-platform solutions to retain your customers
In the subscription-based economy, keeping track of lost customers and continuously finding ways to add value—is essential. Retaining older users is 25% to 95% more profitable. Churnfree offers one-platform-solutions to all your problems achieving the correct churn rate. It empowers your teams with transparency to know more about users' needs and problems while offering them a quick fix. Churnfree is not just a customer retention tool—it continuously tracks the right ways to add value to your customers' lives.
See the Black Friday promotion that's available worldwide.
Discount on all services and features is 10%
Use Code: CF2022
Starting from 25th November
Expiration: No Expiry. We offer a lifetime discount to users who will subscribe using this coupon until their subscription ends or they decide to stop services from our company.
Invest smarter and retain more users in 2022 and beyond
Churnfree does the 100% work of coming up with the correct calculations of why your unhappy customer left and lets your teams focus on the strategic work of finding timely solutions and adding value. Continuously improve, retain, and add value—Churnfree offers a one-stop solution to rebuild your user retaining strategy.
Churnfree helps you maintain your revenue and profit goals.

Churnfree gives you deeper insights into your business.

Offer an easy way to retain older customers.

Making user retention strategies with Churnfree can go no wrong as it gives you accurate facts about your customers' needs.

Knowing what your customer wants can give your team transparency to find easy solutions for users' problems.

Once you know how to retain your users, you can focus your resources on crucial tasks.

Transparency of information offered by Churnfree can help you make the best business decisions.
Bottom-line:
Churn in the SaaS subscriptions business means your users are not happy with what they're getting—which suggests you need to make some changes. Therefore, understanding your churn can give you some valuable insights into how your business is doing.
Churnfree subscription offers accurate calculations, an easy solution to retain old customers, and helps you build robust customer retention strategies to gain subscriber-exclusive benefits for your SaaS businesses.